iTero® Element 5D Imaging System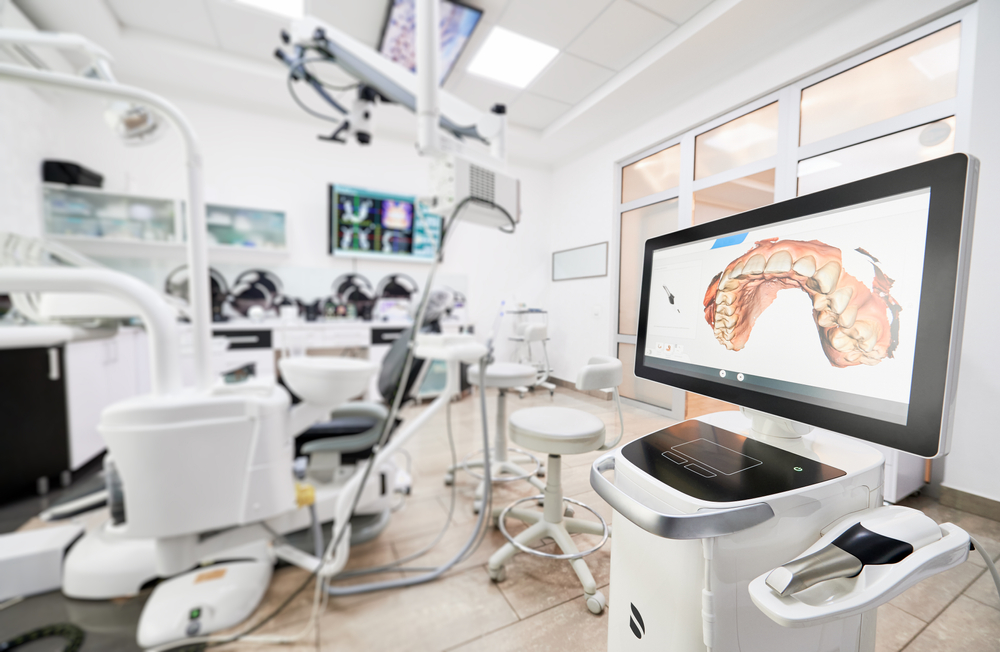 At Ron Mamrick DDS, our goal is to ensure our patients have a pleasant and comfortable experience. We strive to stay up-to-date with the latest and most advanced dental technology to provide the best solutions and treatments for our patients. An iTero scanner is one of the many excellent tools that our practice uses to provide highly detailed images of our patient's mouths. This scanner is a hand-held tool that allows Dr. Mamrick to efficiently and easily scan the inside of a patient's mouth, capturing high-quality, detailed images of the mouth, teeth, and gums. With the iTero scanner, these images create digital impressions of the mouth, allowing Dr. Mamrick to be able to diagnose and treat an oral health issue with accuracy and precision.
iTero® Element 5D Imaging System
The iTero Element 5D is the first hybrid dental imaging system that simultaneously records 3D, intraoral color and near-infrared imaging (NIRI) images. We are able to utilize this technology in many ways:
In most cases, the iTero 3D image can be used in place of conventional impression materials and can be sent directly to a dental lab where dental restorations like crowns and veneers are made. This technology has been shown to create more accurate restorations, which has practically eliminated the need for remakes.
The iTero TimeLapse technology allows us to show our patients how their treatment is progressing by seeing their changes over time. This allows them to be more engaged and know how to take better care of their oral health which, in turn, allows for better treatment outcomes.
The iTero Near-infrared (NIRI) imaging aids in the detection and monitoring of tooth decay above the gum tissue in real time.
The Invisalign® Outcome Simulator allows our patients to see what their new smiles could look like and aids in monitoring their progress throughout their Invisalign treatment.
How Does This Work?
Dr. Mamrick will use this handheld tool to digitally scan the inside of your mouth, teeth, and gums. The wand is attached to a computer, which will then show our team a highly detailed 3D image of your mouth. This process usually only takes about two to three minutes and is able to be stopped or started at any point. The digital image shows both the soft and hard tissue structures of your mouth, allowing for great accuracy and precision for treatment. Dr. Mamrick will use the iTero scanner for many different forms of treatment that are offered at our practice.
Interested In Learning More?
At Ron Mamrick DDS, we are always looking for ways to help improve our patient experience. Our goal is to be as transparent and open with you as possible, always here to answer any questions you may have about treatment or our technology. If you are interested in learning more about the iTero scanner or have any additional questions, we encourage you to reach out to our team at (804) 423-1600. We look forward to hearing from you soon!