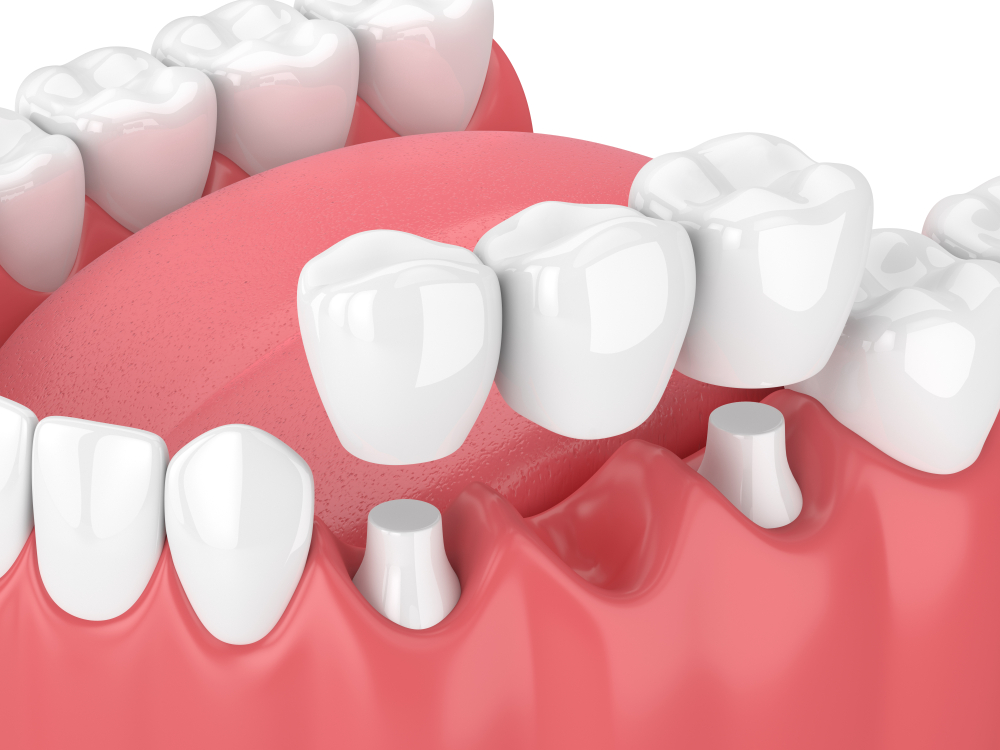 Losing teeth isn't just something that happens to children–sometimes, despite your best efforts, adults can lose teeth due to injury, decay or disease. Dr. Mamrick and the Ron Mamrick DDS team recognize this and offer a wide range of services to replace a missing tooth, like dental bridges.
Dental bridges work by seamlessly bridging the gap between two healthy teeth with a fixed bridge to match surrounding teeth. This repairs both the strength of your bite and the look of your naturally beautiful smile.
What is a Dental Bridge?
A dental bridge is a prosthetic that fills a gap left by missing teeth. The appliance is supported by adjacent teeth instead of using a post, or artificial roots, like a dental implant.
To support the bridge, Dr. Mamrick will place a dental crown, or tooth cap, on the healthy abutment teeth on either side of the gap. The fake teeth, or pontic, within the bridge then connects to the supporting abutment teeth.
Different types of bridges include porcelain and ceramic, and both are uniquely designed to match your natural surrounding teeth.
Who Should Get a Dental Bridge?
Dental bridges are a highly durable and aesthetically pleasing treatment option for patients missing a tooth. If you have a gap from a missing tooth with healthy, strong adjacent teeth, a bridge may be a solid alternative to getting a single tooth implant.
Since bridges do not have replacement roots like dental implants do, they must be between remaining teeth healthy enough to both support the new bridge and sustain the typical pressure and force of biting and chewing. For this reason, dental bridges are best for just replacing one to three teeth.
If a patient is missing more than three teeth, a different restorative solution like partial dentures or dental implants is best. Since bridges can collapse if too much pressure is applied, a solution with artificial roots is best for larger areas.
How Long Does a Dental Bridge Last?
Similar to implants, dentures and other false teeth appliances, dental bridges will not decay like a natural tooth. However, though, proper care and upkeep is still absolutely necessary to get the most use out of your bridge.
By brushing, flossing, and maintaining regular dental hygiene appointments, your dental bridge can last many years without needing a replacement.
Like a natural tooth, bridges can get chipped, cracked or damaged. If this happens, contact us as soon as possible at (804) 423-1600 to get a replacement.
Looking for a Dental Bridge Near You in Midlothian and the Surrounding Richmond Area?
At Ron Mamrick DDS, our expert team specializes in restorative dentistry solutions that repair your smile and mouth back to total oral and aesthetic health. Call our office at (804) 423-1600 to discuss all of the services we offer to restore, protect and maintain your teeth.