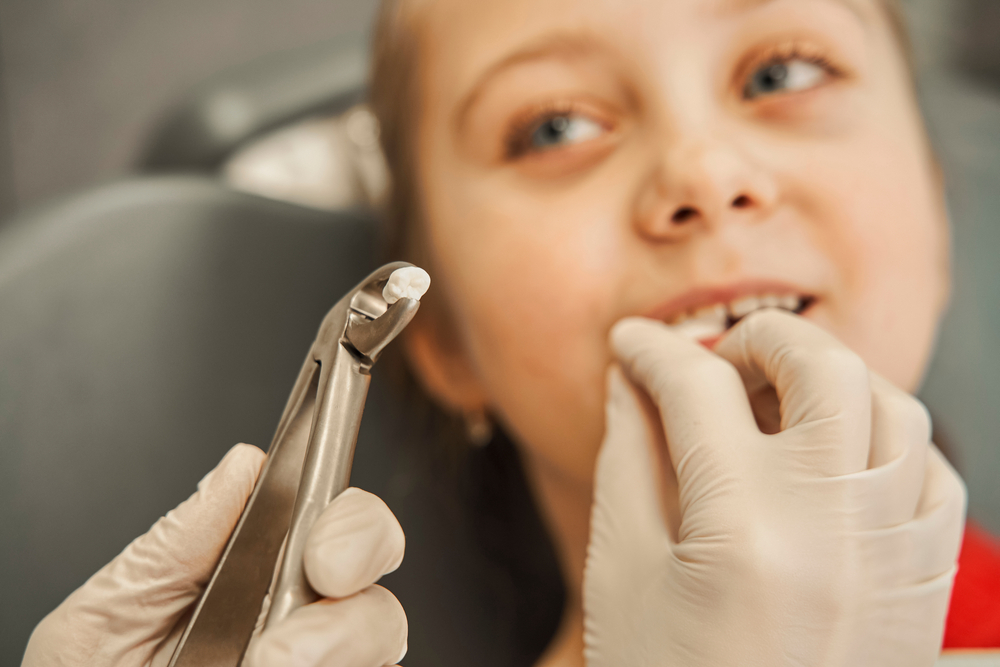 Even with your best efforts to preserve and protect your child's smile, tooth extraction may be necessary due to trauma to the mouth, injury, developmental issues or extreme decay. To maintain the total health, wellness and structure of your child's mouth, we are pleased to offer kid-friendly extraction services at our Midlothian office.
Dr. Mamrick and the team understands that tooth extraction may sound worrisome. You and your family can rest assured that your child's comfort and safety are always our top priority!
We create a stress-free, calming environment with the highest standards of care for your child so we can get each of our little patients on track to a lifetime of healthy smiles.
Does My Child Need a Tooth Extraction?
An extraction is when a tooth is pulled and removed entirely from your mouth. The team at Ron Mamrick DDS makes every effort to preserve your teeth as much as possible, but sometimes an extraction is needed.
Oftentimes for child patients, tooth extraction is a final solution for an oral health issue. Since we want to protect the structure of their mouth so adult teeth can come in safely, our goal is to preserve natural baby teeth as much as possible.
Sometimes, though, this simply isn't the case and attempting to save the baby tooth would cause more long-term harm than good. This is where pediatric teeth extractions come into play.
The most common reasons for tooth extraction Dr. Mamrick sees at Ron Mamrick DDS include:
A baby tooth not falling out despite an adult tooth growing behind it
Infections that damage the entirety of a tooth and part of the surrounding jawbone structure, too
Tooth decay that is severe enough that a root canal or other traditional procedure would not fully heal it
Overcrowding in the mouth as adult teeth develop too quickly
If you notice any of these issues as your child's mouth matures and develops, call our office immediately to schedule an appointment: (804) 423-1600
What Happens During a Tooth Extraction for a Child?
To prevent any potential further damage, decay or injury, our team will schedule your child's extraction as soon as possible. We will use an anesthetic to numb both your child's mouth and their gums so they will not feel anything during the process–not even the shot we use to numb their mouth.
We will explain each step to children in a way that they will both understand and that will eliminate any fear they may have. If children experience intense dental anxiety, we offer sedation dentistry as an additional option for relaxation.
Once your child's mouth is properly numbed and we know the only thing they'll feel is some mild pulling and pressure, we'll perform the extraction and remove the affected tooth.
At-home recovery is also a fundamental component of the process, too. Your child may experience some mild pain as the local anesthetic wears off following treatment. Our team will provide all of the information and education both you and your child need for optimal healing and pain management.
Looking for Tooth Extractions in Midlothian and the Surrounding Richmond Area?
If your child is in need of a tooth extraction, look no further than Ron Mamrick DDS in Midlothian. Our team is well-versed in providing efficient and safe dental solutions in an environment focused specifically on the unique oral health needs of children.
If you have any questions about this procedure or to schedule an appointment, our team is here to help you. Please call today at (804) 423-1600, and we will be happy to assist you.